It takes a very special horse to be included in our therapeutic horseback riding program.
All horses in our program have been carefully screened by our PATH Intl. Instructors before they were accepted.
There are many qualities we require in the horses for our program. They must be well trained for riding, English. They must have a calm and accepting disposition and be patient, yet attentive. Our horses must accept a variety
of stimuli that are not "normal" for many horses in their daily lives. We also require that they be sound and healthy.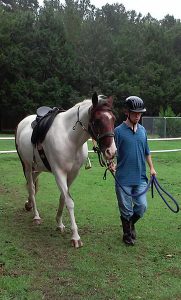 Chance
Chance's registered name is Hollywood's Movie Star.  He is a Spotted Saddle Horse, foal date April 1, 2005. That makes Chance how old? You cannot see all of his markings in the picture but his color is Bay/White/Tobiano. He has a star, strip and snip black spotting at snip, white mane, and black and white tail.  He has the willingness to please and is willing to try anything, we just have to let him think it through first – he wants to please everyone he meets.  He is a young horse and most important for him is to stand still and wait for the signal to move.
Think about sponsoring a horse
Individuals or groups may also sponsor the care of a specific horse, or make a general donation to our program for horse care. Your dollars will help us support the care, feeding and medical needs of the horses that are the core of this program.  A donations will provide food, bedding, vet and farrier (horse shoe) care.